JAMES HORNER
(1953-2015)
---
Where to begin.
Last night, we got the news that we were all dreading.  James Horner's airplane had crashed and he was missing for a while — but then the news.  Last night, we lost a legend.  Not only music lovers, not only movie fans, and not only Hollywood were greatly saddened, but artists everywhere.  He told us stories.  He made us feel empowered, fearful, joyous, saddened, alive, heroic, and so much more, all the while doing it in a way that nobody else possibly could.  In honor, here is a slight glimpse at the man who changed our worlds.
James Roy Horner was born August 14th, 1953, in Los Angeles, California.  His father, a Czechoslovakian immigrant, worked in Hollywood as a set designer.  After graduating college, James worked on several projects with the American Film Institute in the 1970s before finally turning to film scoring. 
Horner started out, as most in the business do, working on lower budget "B Films".  He had his big break, however, when he entered the mainstream and composed the music to the film Star Trek II: The Wrath of Khan.  That was only the beginning.  He moved on to scoring many films that we now know and love.  His first of 10 Academy Award nominations came for his score to the 1986 film Aliens. He would go on to win two Oscars for his work on the classic film Titanic.
That is just a slight look into his numerous well deserved accolades that he received.  The list of his scores that have influenced and touched us is long enough that rather than list it one by one, the complete list of the movies he scored is written below in chronological order. 
Even if you do not personally appreciate his work in ways that others do, there is one fact that cannot be ignored – his contributions to the cinema are astounding.  However, it is near impossible to imagine that one of his scores did not touch you in some way.  Fan of his methods or not, the purity of the music is stirringly extraordinary.  His music is not just something that he did to pass the time.  It was his life. 
Some see dots on a page, but he saw magic. 
We heard that magic.  He gave it to us as his gift to the world.  He had more to give, though, and we know that what he had in store for us was amazing.  That's part of what made him a legend.  He didn't write music.  He was a well of emotion that would never run dry.  Although he is now gone, his gift remains for us to cherish. 
Rest in peace, James Horner.
James Horner's movies from beginning to end (the ones in bold have particularly touched audiences worldwide):
1970s:
The Watcher
Up from the Depths
The Lady in Red
1980s:
Humanoids from the Deep
Battle Beyond the Stars
Angel Dusted
The Hand
Wolfen
Deadly Blessing
A Few Days in Weasel Creek
The Pursuit of D. B. Cooper
A Piano for Mrs. Cimino
Rascals and Robbers:  The Secret Adventures of Tom Sawyer and Huck Finn
Star Trek II:  The Wrath of Khan
48 Hrs.
Journey to Krull
Something Wicked This Way Comes
Space Raiders
Krull
Between Friends
Brainstorm
Testament
The Dresser
Gorky Park
Uncommon Valor
The Stone Boy
Star Trek III:  The Search for Spock
Heaven Help Us
Surviving
Barbarian Queen
Cocoon
Volunteers
The Journey of Natty Gann
Wizards of the Lost Kingdom
Commando
In Her Own Time
Off Beat
Aliens
Where the River Runs Black
The Name of the Rose
An American Tail
P. K. and the Kid
Project X
*batteries not included
Willow
Red Heat
Vibes
The Land Before Time
Cocoon: The Return
Andy Colby's Incredible Adventure
Field of Dreams
Honey, I Shrunk the Kids
In Country
Dad
Glory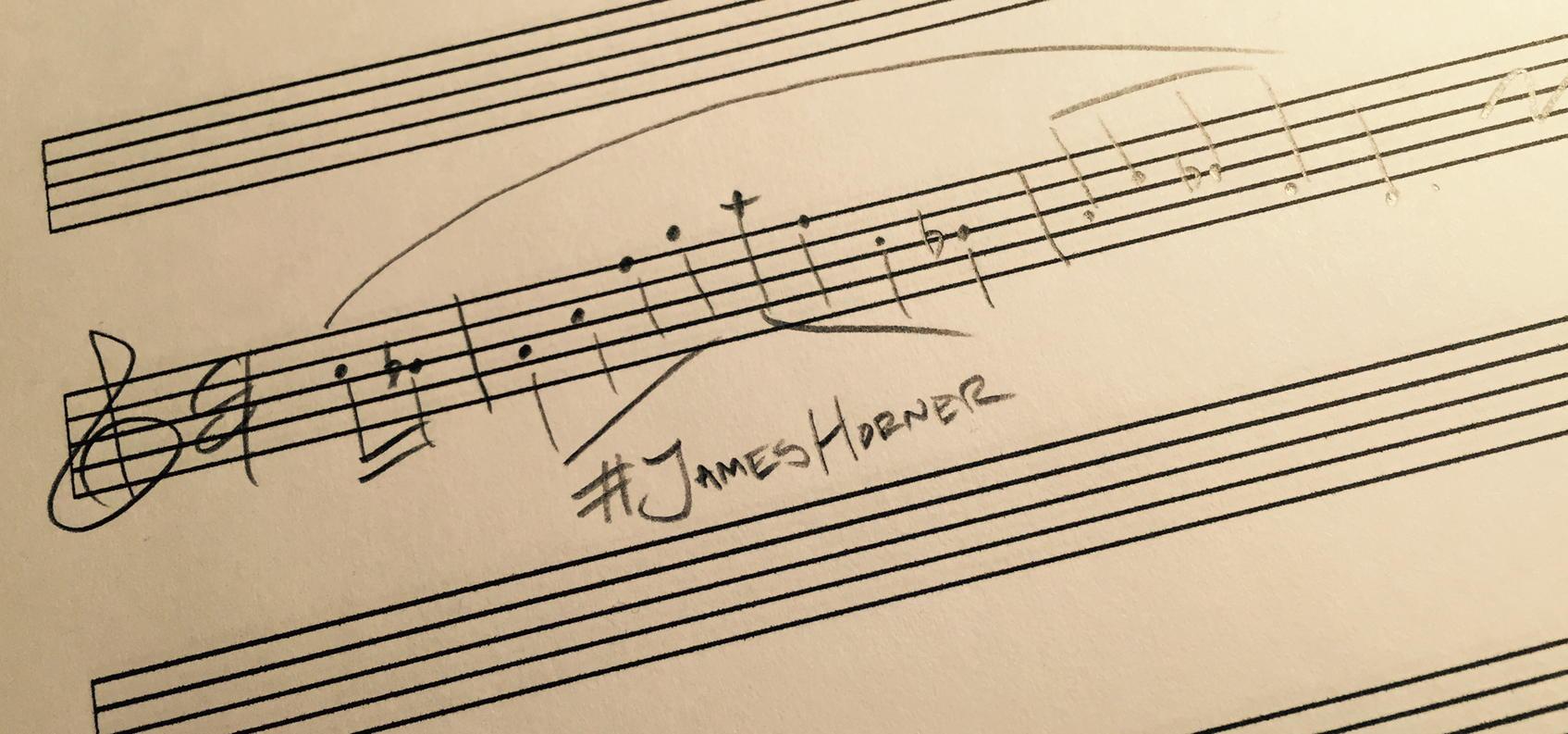 1990s:
I Love You to Death
Another 48 Hrs.
Once Around
My Heroes Have Always Been Cowboys
Class Action
The Rocketeer
An American Tail: Fievel Goes West
Thunderheart
Patriot Games
Unlawful Entry
Sneakers
Swing Kids
A Far Off Place
Jack the Bear
Once Upon a Forest
House of Cards
Searching for Bobby Fischer
The Man Without a Face
Bopha!
We're Back! A Dinosaur's Story
The Pelican Brief
Clear and Present Danger
The Pagemaster
Legends of the Fall
Braveheart
Casper
Apollo 13
Jade
Jumanji
Balto
The Spitfire Grill
Courage Under Fire
To Gillian on Her 37th Birthday
Ransom
The Devil's Own
Titanic
Deep Impact
The Mask of Zorro
Mighty Joe Young
Bicentennial Man
2000s:
Freedom Song
The Perfect Storm
How the Grinch Stole Christmas
Enemy at the Gates
A Beautiful Mind
Iris
Windtalkers
The Four Feathers
Radio
Beyond Borders
The Missing
House of Sand and Fog
Bobby Jones: Stroke of Genuis
Troy
The Forgotten
The Chumscrubber
Flightplan
The Legend of Zorro
The New World
All the King's Men
Apocalypto
The Life Before Her Eyes
The Spiderwick Chronicles
The Boy in the Striped Pajamas
Avatar
2010s:
The Karate Kid
Day of the Falcon
For Greater Glory: The True Story of Cristiada
The Amazing Spider-Man
One Day in Auschwitz
(Forthcoming):
Wolf Totem
Living in the Age of Airplanes
Southpaw
The 33